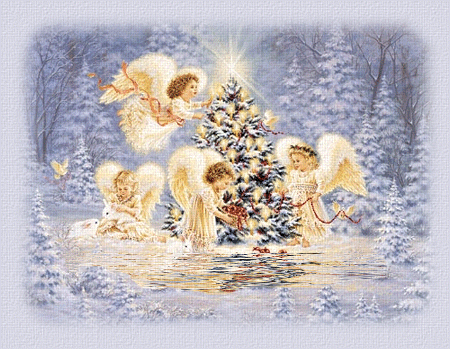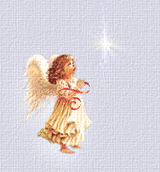 I hear the flutter in the breeze,
There is snow upon the ground.
All the leaves have fallen,
Not a single one to be found.



So it makes me ponder,
On this lovely winter day.
Could it be an Angel?
In the snow at play?



I go ahead and build my snowman,
I work with cheerful hands.
Carrot nose and button eyes,
To make him, look so grand.



I think I hear a little giggle,
A flutter in the breeze,
I look up to see who might be here,
But it's just my snowman and me.



With all this, Yule time cheer,
On my face I have a smile.
Soon we will be singing songs,
As we gather around the fire.



It's nearly time to go in,
I'll soon be snug in bed.
As I dream of sugar plumbs,
Dancing in my head.



Then it's Christmas Morning,
We gather around the tree.
I look out my frosty window,
My eyes just can't believe,



A beautiful smile on my snowman,
My hands could have never achieved.
I walked the same snow prints,
That I had made that very night.



Only one going to it, One coming back.
As I look at the snowy base,
I see a folded note
Looking so mystified,
With wonder on my face



As I read the words, This is what it said,
I enjoyed the wonderful evening
Seeing the joy your heart does hold
But, there is more to this message
To you that must be told



Always remember,
the reason for this season
The night that Christ was born
All those that gathered,
In the manger long ago



Always remember His
love and His giving way
Then you can have Christmas,
Every single day.



And if you don't mind,
I'd like to come next year
At the bottom was signed,
Your Angel of Christmas Cheer.